Picking the appropriate funeral flowers
Flowers have traditionally been a way to express love for the deceased and condolences to the family on their sad loss. 
Some families may stipulate that they don't want people to send floral tributes appealing for donations to charity instead, however flowers can be a comforting and beautiful way of showing your love for the person who has died and how much you're thinking of those around them at such a difficult time.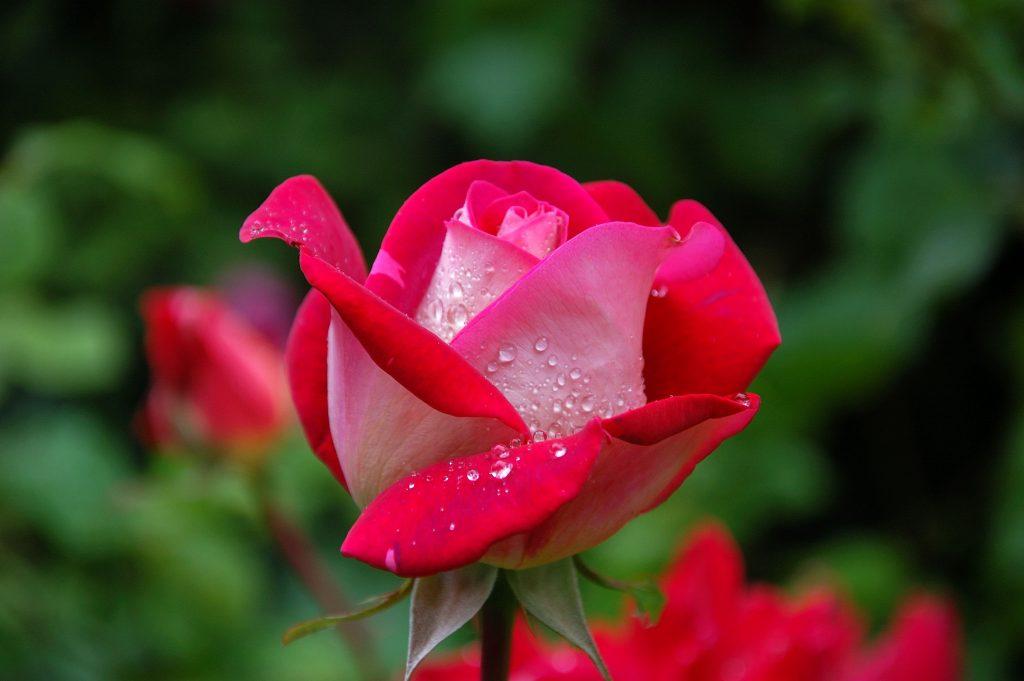 What flowers should I choose?
Although blooms such as arum lilies, carnations and chrysanthemums are associated with funerals there are no rules about the types of flowers or colours that should be sent to the funeral or homes of the bereaved. You might however, wish to follow the example of the Victorians and take a look at the language of flowers for inspiration. 
White lilies represent peace and red roses are renowned for expressing love. If the deceased had a favorite flower and colour, it may provide comfort for the bereaved to receive an arrangement that includes these varieties.
Some flowers also derive meaning from the scents they carry, their medicinal qualities and how they are used. For example, lavender has a meaning of purity, silence, devotion and serenity. And poppies hold meaning of restful sleep or peace in death.
What funeral flowers should I choose for a man?
You don't have to be gender specific when it comes to flowers but it's probably more usual for a woman to have a favourite bloom than a man. 
Common colours are red which suggest strength and passion and of course love. Red roses and carnations are popular choices but other red options can include, gerbera daisies, tulips, anthuriums, ginger, and hypericum berries.
 White funeral flowers for men are a beautiful option redolent of peace and include  roses, lilies, carnations, and daisies.
What funeral flowers can I choose for a woman?
Funeral flowers for women generally come in pastel shades and feminine colors like pinks, lavenders, and yellows. 
They also tend to be more stylized or formal in design and often include traditional flower types like carnations, chrysanthemums, and roses.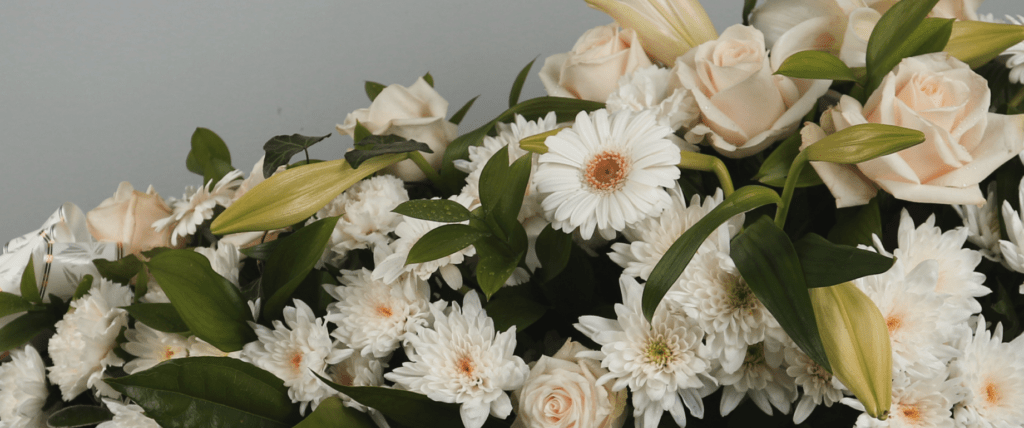 When should I send flowers for a funeral?
If you do decide to send flowers for the funeral they should arrive at the funeral home before the first visiting hours … to be there when the family arrives.
When should I send sympathy flowers?
Sympathy flowers are the arrangements you send to the family on hearing of someone's death and you can send them as soon as you wish to however some people choose to wait until a week or so after the funeral. One reason for this is the remind the 
bereaved that you have not forgotten about them or their loss.
What arrangement of flowers should I send?
There are different kinds of arrangements you can consider when ordering your flowers and some have a more specific function than others. These are the ones more commonly used.
Wreaths
A wreath is a circular arrangement which symbolises eternal life.
Floral arrangement
This could be anything from cut flowers to blooms in a basket.
Casket sprays
These go on top of the coffin and are usually the flowers chosen by the immediate family.
Sprays
This arrangement is usually designed to be viewed from one side
Inside flowers
These are small floral sprays that may be placed inside the casket.
How can I personalise funeral flowers?
One of the ways you can make the funeral of your loved one even more about them is through a floral arrangement. Many florists will create bespoke tributes to your loved one to reflect personal traits, hobbies, passions, everything from their favourite football team to their nickname. This is a way too of helping make the ceremony feel like a celebration of a life, as well as its passing.
When should I not send condolence flowers?
You don't need to send flowers if  the family has requested people make a donation to charity instead and although flowers are welcomed by many religions and cultures at funerals, there are some faiths where flowers are not part of their tradition.
Jewish Funerals
Condolence flowers have never been traditionally a part of jewish funerals because in Jewish law, immediate burial, within three days, has been customary. That's not to say they are totally forbidden.
Islamic funerals 
It's not usual to send funeral flowers to Islamic funerals but it can be common to place individual flowers on graves along with palm branches and other greenery. 
Hindu funerals
Flowers are not a traditional part of Hindu funerals, but they are not unwelcome.
Buddhist funerals
At Buddhist funerals white or yellow flowers are acceptable but red flowers are not.
If you would like expert advice about funeral traditions and customs please do not hesitate to contact us at Middleton's Funeral Services.