You might think the answer to 'What do I wear at a funeral ceremony?' to be a simple one. 
Black. 
After all, for more than 500 years it has been the predominant colour of bereavement.
Originally, mourning dress was the prerogative of the aristocracy and those of a higher class and there was a strict dress code to indicate where you came in the pecking order.
Eventually mourning dress became the height of fashion and was worn not only by those in the upper classes but by people who wished to emulate them. Rich merchant families adopted mourning dress as a status symbol and transformed it into a style statement with black coats and breeches for men and mantua dresses for women, in black and half-mourning mauve.
But it was under Queen Victoria who after the death of her beloved Prince Albert wore black until she died in 1901, that the cult of mourning had reached its peak.  Henceforth, many people from the rising industrial middle classes of Europe and North America chose to follow her example.
Mourning clothes became a family's outward display of their inner feelings and that is how we can think of them today.
The phrase 'pay your respects' in relation to attending a funeral is the first indication of how you should dress for the occasion. Would it be respectful to turn up in a  t-shirt and jeans to say farewell to a loved one? Well not usually, but along with the trend for bespoke boutique funerals comes variations in the dress code. 
A t shirt and jeans might not be appropriate if you're attending the funeral of your 90-year-old aunt, or the head of a global corporate company but it may be if the person who has died is a biker who wanted everyone to turn up to his or her funeral on their motorcycles.
The idea that the funeral ceremony is a 'celebration of life' has also had an impact upon what people wear, which for many of us makes things difficult. If a dear friend or relative had passed away leaving instructions for everyone to dress in their brightest clothing but your inner feelings are ones of deep sadness then should you just stick to wearing black?
The answer to this is, do what you feel. Most people at a funeral will not be thinking of you but of the person who they've lost. Maybe you could wear your traditional black suit but add a flamboyant pocket square, or scarf.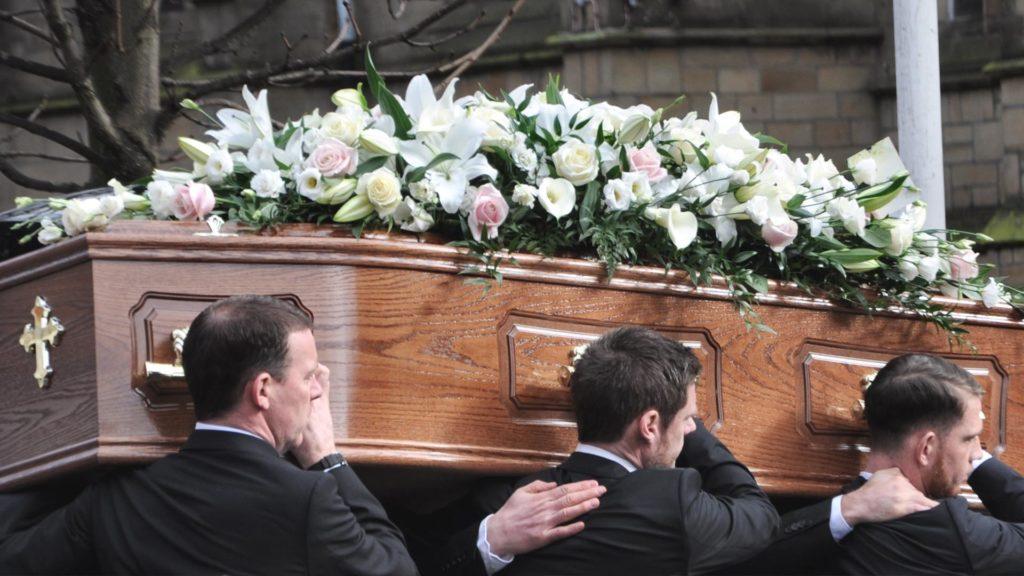 How should I dress for a funeral?
1. If in doubt, dress conservatively
Unless everyone is coming as their favourite Disney character, this is really no time to be making a statement. For women, a simple dress covering the shoulders and knees or a smart dark suit will be more than appropriate. Wear with a jacket or coat. A hat could finish off the look but really not necessary as etiquette dictates you should take it off in a church. For men a suit worn with a crisp white shirt is acceptable but you can also wear a more casual trouser and jacket if that's your style.
2. Steer clear of bright colours
Unless the dress code is brights, it is best to stick to subtle colours. You don't have to wear black, greys and navy are also acceptable.
3. Limit the jewellery
This is not really the time to pile on the bling. Dazzling earrings and a jangle of bracelets are more appropriate for a party than a funeral so keep your jewellery minimalist.
4. Wear comfortable shoes
Most funerals require a lot of sitting and standing and maybe walking to the graveside service, so a pair of comfortable shoes will be a good idea.
5. Take an umbrella
It's worth keeping a brolly in close proximity, the Great British weather has a habit of being pretty unpredictable.
6. If the funeral is in summer 
Be prepared for heat and make sure your clothing is lightweight but wearing shorts, or anything too revealing is a no-no.
7. Take sunglasses
Whether it's winter or summer, sunglasses are useful. They give you something to hide behind as well as shielding your eyes from the glare of sunlight.
Anything goes?
Dark, sober and conservative isn't always the right thing to wear at a funeral. You have to consider what kind of ceremony you'll be attending. If it's an eco tree planting ceremony in the middle of a forest you may want to wear something loose and bohemian. And black isn't always appropriate for certain religions and cultures.
For example, many people wear white mourning clothes in eastern Asia, symbolising purity and rebirth. In South Africa, red has been adopted as a colour of mourning, representing the bloodshed suffered during the Apartheid era and many devout Catholics in Brazil also wear purple, alongside black, while mourning the loss of a loved one.
If you are unsure about what to wear at a funeral and need some advice please don't hesitate to contact us at Middleton's Funeral Services.